Sabrina E. Morrissey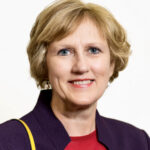 Sabrina E. Morrissey is a member of Morrissey LLP. Sabrina focuses her solo practice on trusts and estates law, guardianships and small corporation matters. She is on the Part 36 List as a Special Referee, Guardian, Guardian ad Litem, Court Evaluator and Attorney for Alleged Incapacitated Persons. Sabrina enjoys her work with the elderly, those with mental and physical disabilities, and their families. She is AV Rated by Martindale Hubbell by both peers and the judiciary for having the highest levels of integrity and skill.
Sabrina has served in numerous roles within the New York Women's Bar Association, as Vice President, Treasurer, Recording Secretary, and a member of the Board of Directors. She has been the Co-Chair of the NYWBA Elder Law and Disabilities Committee and Co-Chair of the WBASNY Elder Law and Trusts & Estates Committee. She also serves as WBASNY Foundation Treasurer.
Sabrina looks forward to her new role as President of NYWBA for the 2023-24 year. She welcomes the challenges and rewards it will bring. She is profoundly grateful for the support she has already received from past Presidents and members.
Sabrina always enjoyed writing, researching and talking. As a child, her report card often read, "too social." Despite her husband's established career as an attorney, it was not until a Professor at New York University, who was himself a lawyer, recommended the law to her, that she gave it serious thought and applied to law school.
She received her B.A in Economics from the University of West Georgia, an M.A. from New York University, and her J.D. from Brooklyn Law School in 1994.
Throughout her career, she has served as General Counsel to an international staffing company, Northeast Regional Manager for Kelly Legal Staffing, and the founding member of two wellness companies.
She has been blessed with wonderful mentors, including her husband, Jim; retired Judge Arthur Blyn, who was instrumental in her choice to attend Brooklyn Law School; and her grandmothers, who imparted their wisdom, unwavering support, and humor and without whom she could not go forward.
She resides in Manhattan with her newest family member, Speckle, an 11 month old German Short Hair Pointer and Border Collie mix.
Sabrina is excited about our upcoming events and opportunities to continue to grow this wonderful organization and invites you all to join us in what is destined to be a great year.