President's Message
April 2018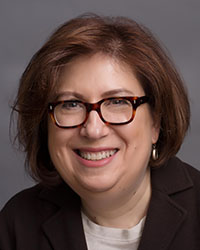 NEVER GIVE IN
Women's History Month and International Women's Day were particularly exciting and inspirational this year, with so many women of all ages speaking out, taking to the streets and showing unity and strength all around the world. This year's Women's History Month's theme, Nevertheless, She Persisted! is both a reminder and a challenge to all of us, not to give up or to allow ourselves to be silenced. It is certainly what our NYWBA Founders were all about in forming our Association. Be a proud NYWBA member.
I recently returned from a Civil Rights trip down south with a group from my synagogue, to Atlanta, Birmingham and Selma. We went to learn and understand our history and country better. We met some extraordinary people who endured incredible hardships, terror and injustices, who marched with Dr. Martin Luther King, Jr., and those who are continuing the fight for equal justice including through the courts at the Equal Justice Initiative. We walked in the footsteps of great heroes, young and old, whose names are known and unknown, who put their bodies and lives on the line so that they and generations after could be free.
In Atlanta, we visited the Center for Civil and Human Rights. For most of us the most chilling and haunting part was a near virtual experience of sitting at a segregated lunch counter, under attack, while remaining still and non-violent as the brave Freedom Riders did. It gives one a whole new understanding of true courage and what it took to remain non-violent under those brutal and vile circumstances.
This year was the 53rd Anniversary of Bloody Sunday, considered the moment when the Voting Rights Act was birthed. As we walked over the Edmund Pettus Bridge (named after a Confederate general), we tried to understand what it was like to reach the crest, facing a hostile and well-armed police force. Then to have courage and resolve to return again and again, knowing you were facing certain brutality and possible death.
This trip was the one of the most profound, moving and memorable experience of my life. It's one that I am still processing; one that I recommend to all. It is a journey I think anyone interested in public office should be required to take.
Rep. John Lewis goes back every year to walk across the Edmund Pettus Bridge to commemorate Bloody Sunday, bringing people from all walks of life, adherents of all religions, and colleagues from all political parties to join him. This year, a reporter asked Rep. Lewis, himself once a young activist, what was his message to the young people from Parkland now fighting for change. He said, "Never give up, never give in. You will have setbacks as we did, but never give up hope." John Lewis is a true American hero. His life and words remain an inspiration to us all. He remains an optimist, always hopeful for change for the better. We should do no less.
Our Youth Lead the Way.  It is a terrible thing to feel we have failed our children, but an inspiration to watch the students of Marjory Stoneman Douglas High School stand up to all to honor their murdered friends and teachers. They are determined, gutsy, tough, irreverent and smart. They stand up to politicians, to their trolls, to the NRA and to all those who say "no" or "you can't." They call out as "BS" every phony claim that change can't be made against gun violence, or made now. They make us all proud and we should support them in every way we can. The Parkland students have accomplished legislative change in Florida. They have organized a national student walkout; 17 minutes of silence for the 17 murdered. They are organizing voter registrations and so much more. This is what Democracy looks like.
We were strangers in a strange land. For many, the month of April brings the joy of Spring and cherished holidays. For me, it is the celebration of Passover, the exodus from slavery to freedom, commemorated and retold at the Passover Seders. It is a reminder for us to identify with the stranger, the outsider, now more poignant and necessary than ever. Everywhere around the world thousands of people, families and children, are forced to flee their homes by war, persecution, terror, and hunger. They are vilified, attacked and demonized, including by our own officials. The question for our generation is, who do we want to be as citizens, what do we want our country to stand for in the face of this unprecedented humanitarian crisis? What can we, as bar leaders do? How will our generation be remembered and judged?
Pride.  Congratulations to immediate Past President Deborah G. Rosenthal who was just nominated 2018-2019 Treasurer of WBASNY. Deborah served as our association treasurer for three years and in many other important capacities before becoming a great President of our chapter. She joins as a long line of extraordinary women from our chapter who have served on WBASNY's board, including presently, former NYWBA President Jennifer P. Brown, who currently serves as WBASNY Recording Secretary with great distinction. We are proud of all our chapter's members who have contributed so much to WBASNY. And we wish Deborah and her fellow officers great success in their terms.
Wishing happy holidays to all and peace to all for Spring. And never give up or give in.
Myra