President's Message
April 2019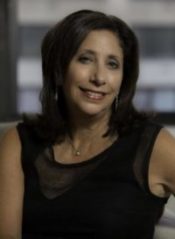 PRESIDENT'S MESSAGE
"There's power in allowing yourself to be known and heard, in owning your unique story, in using your authentic voice.  And there's grace in being willing to know and hear others. This, for me, is how we become." – Michelle Obama, Becoming.
I have no doubt that each of us can relate to one, or more, if not all of the messages, stories and experiences that resonate throughout Becoming. As members of the New York Women's Bar Association we have a story and our collective voice is not only authentic but powerful. Our mission remains critical and as important as ever.
As we close out Women's History Month this year's theme is illustrative of what we can do and what we need to do: "Visionary Women: Champions of Peace and Nonviolence". Fifteen women were honored, women who have worked tirelessly to end war, stop the violence, eliminate injustice.  Among them were Deborah D. Tucker, President of the Board of Directors of the National Center on Domestic Sexual Violence, Zainab Salbi, Founder and Former CEO of Women for Women International and Graciela Sanchez, Co-founder and Director of Esperanza Peace and Justice Center. These women and the other nominees used their authentic voice to restore respect, establish justice and eliminate violence all over the world, in war zones, during times of heightened violence, often risking their own lives. They knew, as do we, that women historically have led the way to resolve conflict, in the home, schools, and communities.
We too know how to resolve conflict and our mission to advance the status of women in the law is the bedrock for a nonviolent, just world for everyone. Our way may seem to pale in comparison to to the herculean efforts of the honorees. Yet, it is no less important. Our committees are leading the way with programs and meetings highlighting the need for diversity, gender fairness and equal justice. Please take the time to read the articles in this and other newsletters and if you are not already part of a Committee please join one, or two. Let your voice be heard and be part of a collective voice.
Our voice is growing. We are 700 members strong. And I am optimistic that our statewide voice, with WBASNY, will be even louder. As our chapter and several others throughout the state grow so too does our voice and what I am hearing is that we want to be heard; we want to stand with our sisters, allies, immigrants, victims of domestic violence, the impoverished, the unjustly accused and do something about it. As lawyers we have that power and should use it. Did you know that WBASNY has lobbyist in Albany? That we lead the way on critical legislation consistent with our mission. Having WBASNY speak up, more often, and with the support and inspiration of NYWBA and our sister chapters we can make a difference. The incoming officers of WBASNY (as well as NYWBA) are a proactive group with a story and an authentic voice. Our own Deborah G. Rosenthal, a past president of NYWBA has been nominated 2019-2020 Vice President after serving one year as WBASNY Treasurer (2018-19). Congratulations Deborah and we are confident that you and your fellow officers will pursue our mission. Women's History is not simply a "month". It is every day that was and every day that will be.
It is tempting to feel that the task before us is daunting; that so many amazing women came before us and what could I, could you, possibly do? Even within the NYWBA, as you navigate our website and see our history and the trailblazing women who came before us, it is easy to feel overwhelmed. But each of them were once me and you, and that is why our current officers and our new officers are working hard to mentor our younger attorneys, to involving them in our Committees, to give them the opportunity to lead, and shape our future. By the time this newsletter will have reached your inbox our chapter, nearly 40 strong, will have attended the 90th Birthday Celebration for Hon. Betty Weinberg Ellerin.  NYWBA sponsored three tables, offering a seat at the Celebration to our past, present and future leaders. It took me hours (literally) to set the tables so that women's history would be represented at every table, for past, present and future. One cannot exist without the other two. This is how women's history is made.
"For every door that's been opened to me, I've tried to open my door to others…. Let's invite one another in." – Michelle Obama, Becoming.
Virginia