President's Message
May 2019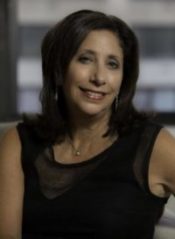 Join. Question. Act.
I am so honored to serve a second term as President of the New York Women's Bar Association. Our new year officially began on June 1, 2019 and the Officers, Directors and Delegates will be installed at our Annual Awards and Installation Dinner on June 13 at the fabulous Tribeca 360°. I look forward to seeing you at the Annual Dinner and encourage you to participate in the Silent Auction and Raffles which help support the NYWBA Foundation. If you have not yet purchased a ticket, whether an individual seat or table, please do so. At the Dinner we are honoring three spectacular women: we are presenting the President's Special Award to Hon. Judy Harris Kluger and the Joan L. Ellenbogen Award to Hon. Laura E. Drager.  In addition we will present the First Betty Weinberg Ellerin Award of Excellence to Hon. Betty Weinberg Ellerin.
Our Committee Chairs are already planning important programs for the coming year. The Reproductive Rights and Women's Health Committee is planning an event on July 9 to address what steps we can take in New York to address the recent spate of anti-abortion laws in 8 states, which states, not surprisingly, have the worse health profiles for women and infants in the country. Two states, Alabama and Georgia, actually criminalize women's choices. Our Matrimonial and Family Law Committee is presenting a CLE program entitled "Establishing Effective Monitoring Protocols for Parents with Substance Abuse Issues" to be held on September 11. The panelists include Hon. Lori S. Sattler and Steven Paymer. Please SAVE THE DATE as further information about registration will be available over the summer.
On July 11, we will once again present our annual Martha E. Gifford Summer Program entitled "What It's Really Like to Practice Law as a Woman."  Law students, interns and junior lawyers are encouraged to attend this free program which will be held at the New York City Bar, a co-sponsor of the program.
On September 16 we will host our annual Membership Reception which is offered free to all members and prospective members.  This year the Reception will be held at the new offices of Blank Rome LLP.  In the past, when this Reception was spearheaded by the late Hon. Judith Kaye, attendees were encouraged to bring children's books which were donated to those in need.  This year, I would like the Reception to be an opportunity for us to help with a crisis in our community: Period Poverty. I am working with our Health and Reproduction and Domestic Violence Committees to select how our contributions can best help.  Additional information will be available over the summer.
Melissa Gates new book, The Moment of Lift: How Empowering Women Changes the World, addresses why it is vital to empower women. She is calling on others to "commit to the lift", asking, "what action will you take towards gender equality in your own home, workplace, school, or community?" Our association is evidence of our commitment to "the lift." We look to empower women in the law and in our community. This President's message alone reflects some of the ways in which our association promotes, empowers and fights for gender equality. There is still much work to be done. A recent survey by the International Bar Association on bullying and sexual harassment in the legal field reported that 1 in 3 females have been sexually harassed at work and half have been bullied. New York has enacted stronger laws to combat this trend in all workplaces, not just law firms. But more is needed. If we cannot make our legal community safe how can we hope to promote safety, equality and fairness elsewhere?  If women in law cannot break the barriers that exist within their firms, how can we hope to break barriers in the home, other workplaces and our communities? I do not have the answers—but together we can try to find them by asking what ourselves what we can do; by empowering our colleagues to do the same; and finally by taking action!
Virginia