President's Message
September 2021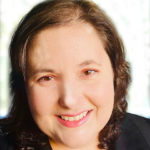 On June 9, 2021, I was honored to be installed for my second term as NYWBA President by the incredible Myrna Felder at our Annual Installation and Awards Dinner. That night, we were treated to inspiring speeches by our award recipients, New York State Attorney General Letitia James, the Honorable Rosalyn Richter, and the Honorable Matthew Cooper. I also introduced our bar association's theme for this year: "All rise, together."
As we work to pull ourselves out of the global pandemic that has changed all of our lives over the past 17 months, we must ensure that the world we rebuild is on a foundation of equality and fundamental human rights for all persons. Women's careers were disproportionately impacted by the pandemic, suffering more job losses than men.  This global crisis exposed and intensified gender disparities as the unpaid work shouldered primarily by women increased significantly with families in quarantine. Racial inequity in public health was also highlighted as many racial and ethnic minority groups faced a higher risk of becoming seriously ill or dying from COVID-19. It is clear that as we rise out of the COVID-19 pandemic, we must also effectuate significant social change to ensure that the next public health crisis or other social upheaval will not mark another significant setback in the global movements for equality.
As we seek to rise together, the NYWBA will provide programming aimed at helping our members to navigate the challenging transition of our transformed work environment. This summer, the NYWBA held several events to uplift our members and promote our 2021-2022 theme of "all rise together."
In July 2021, we launched our COVID: Back to the Office Series with a program on "Preparing your Pets for Return to Work and the Law," which was co-sponsored by our new committee on Animal Rights and our long-standing Reproductive Rights & Women's Health. The series continued in August with "A Focus on Mental Health."
We continued to sponsor events aimed at the legal aspects of some important legal and social justice issues. On July 15, 2021, our Immigration Law Committee presented a CLE program focusing on humanitarian, family-based and employment-based immigration. On July 28, 2021, a CLE program on "Transgender Name Changes: From Both Sides of the Bench" was presented by our Civil Courts, Diversity & Inclusion and LGBT Committees and co-sponsored by the LGBT Bar Association of New York (LeGAL), the Name Change Project of the Transgender Legal Defense & Education Fund, Inc., and The Richard C. Failla LGBTQ Commission of the New York State Courts. On August 5, 2021, we co-sponsored an event with our sister WBASNY Chapter, the Brooklyn Women's Bar Association on "False Arrest & Excessive Force Lawsuits: The Tactical Do's & Don'ts."
On July 14, 2021, the NYWBA partnered with the National Conference of Women's Bar Associations (NCWBA) to take our annual Martha E. Gifford Summer Program, "What It's (REALLY) Like to Practice Law As a Woman," to a national audience.  Our diverse and engaging speakers included our own Hon. Saliann Scarpulla, Justice of the New York Supreme Court Appellate Division First Department, who moderated the panel; Prof. Maleaha Brown, Southwestern Law School in Los Angeles, CA and formerly and attorney at Legal Aid Foundation of Los Angeles and Texas Rio Grande Legal Aid; Rennee R. Dehesa, Partner, Jones Lester, Schuck, Becker & Dehesa, LLP and Past President, Mexican American Bar Association; Amy Dunn, Partner, Amy Dunn, PC in Houston, TX; and Pam Kohli Jacobson, Partner and Firmwide Practice Group Coordinator of Intellectual Property Procurement and Portfolio Management at K&L Gates, Seattle, WA. There was a lively discussion about gender discrimination in the workplace, work-life balance, and how each lawyer defines career success and achieves it for herself. In September, we will be presenting a follow-up panel to instruct other bar association across North America about how to organize similar programs for their members.
On July 13, 2021, we continued our Zoom with a Judge series featuring the Hon. Judy Kim, New York County Civil Court. Our next Zoom with a Judge will feature the Hon. Phaedra F. Perry of the New York County Civil Court on September 28, 2021.  Please RSVP through our website.  Additional opportunities to meet our fantastic New York judges will be scheduled throughout the year.
Our Annual Membership Reception will be held virtually on September 29, 2021 at 6:00pm. This year, we are honored to have a special guest speaker who is one of our own members, the Hon. Anthony Cannataro. Judge Cannataro was sworn into the New York Court of Appeals on June 8, 2021.  We will be continuing our Period Poverty drive to help provide sanitary products to people in need.  I hope you can join us and bring along your colleagues who may benefit from becoming members of our Association.
Finally, September is Ovarian Cancer Awareness Month. I continue to receive treatment for my advanced-stage ovarian cancer, which is considered incurable. I am doing well on my current treatments and thank my NYWBA colleagues and family for their support and encouragement. I share my experience with cancer to help remind our legal community that those with cancer and other chronic illnesses still have much to contribute to our profession and to our society. I plan to continue to engage in this important work for as long as I live.
I am looking forward to rising up together from the pandemic and rising above the injustices and inequality of our nation's past. Members of our community are still facing the threat of injuries from violence and discrimination motivated by sexism, racism, and LGBTQ prejudice, and suffering the insults of those who deny that reality. Each time we make a few more cracks in the glass ceiling, we face another backlash seeking to replace the pane. I look forward to spending the next year shaping a future together in which we boost women lawyers up the ladder and help them forge the tools to finally break the glass and continue the work of clearing it away after we are gone.
"For there is always light, if only we're brave enough to see it, if only we're brave enough to be it." – Amanda Gorman
Amanda