President's Message
February 2018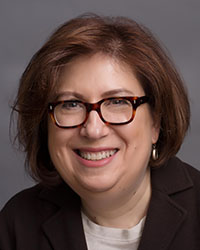 TIME'S UP, NOW!
I write this message in the days leading up to Dr. Martin Luther King, Jr.'s birthday and for our February newsletter– the month in which we celebrate Black History– with the message resounding everywhere: Time's Up, NOW!
For many of my generation, watching Dr. King's March on Washington was one of the
earliest and most powerful memories of our lives. On August 23, 1963, I sat with my mother in our living room, watching the events of that day on our little black-and- white television. I knew from my mother that I was watching one of the most important moments in American history. I can still picture her sitting still, her beautiful face taut, holding back her emotions, full of hope, her eyes glistening with tears. I am thankful she shared that day with me. I will always picture the "I Have A Dream" speech as I viewed it from my living room. I consider it one of the greatest speeches I have ever heard, and Dr. King one of the greatest orators of all time. He was only 34 years old on that incredible day, something I have often thought about at various stages of my own life. I also learned around that time about the important work that lawyers did as part of the Civil Rights struggle– one of the reasons I and many members of my generation became lawyers.
It wasn't until much later in life that I read another powerful writing of Dr. King's. "Letter from Birmingham Jail" was written weeks earlier (on April 16, 1963), under darker circumstances, and is perhaps more poignant. It should be read in its entirety. To repeat just a part, Dr. King wrote in response to critics:
I cannot sit idly by in Atlanta and not be concerned about what happens in Birmingham. Injustice anywhere is a threat to justice everywhere. We are caught in an inescapable network of mutuality, tied in a single garment of destiny. Whatever affects one directly affects all indirectly. Never again can we afford to live with the narrow, provincial "outside agitator" idea. Anyone who lives inside the United States can never be considered an outsider…
Dr. King's Letter goes on to powerfully describe the poison of segregation and racism, and why it was no longer tolerable to "wait." We in the NYWBA try to live by Dr. King's message. In these divisive times, we must be all the more vigilant for the rights and dignity of all, particularly the most vulnerable in our society. I thank all those members who bring to our attention events, actions, the work of other Associations and the appellate cases we can get involved in to better carry out our mission and live by Dr. King's words. We will never know how much better a nation we could be if Dr. King and other great leaders of that era had not been assassinated.
In January, we reached out to those who have not yet renewed their membership. If that includes you, please renew now. You can renew online, at www.nywba.org or if you have membership questions, contact our membership committee chairs at membership@nywba.org. NYWBA is currently the largest chapter of our statewide organization, The Women's Bar Association of the State of New York. WBASNY itself is now the second largest statewide bar
association. This gives our chapter a bigger voice and more votes on the issues, controversies and priorities we care about. If you want a voice on the issues of the day, help us maintain our membership, and help our membership grow. And please help support all the great work and programs we do with your dues.
We are a proud co-sponsor of the Museum of the City of New York's lecture series, which accompanies the exhibit Beyond Suffrage: A Century of Women in Politics, open through July 22, 2018. It is a wonderful exhibit to see. On January 24th the Museum held a panel discussion, The Legacy of Shirley Chisholm, and showed the documentary "Chisolm '72: Unbought & Unbossed." Shirley Chisholm, a Brooklyn Congresswoman, was the first African
American woman to run for President, and the first woman to run nominated by a major party.
On Saturday, January 20th, we all joined once again with our friends, families, colleagues and allies in New York and around the country, in the 2018 Women's March.
On Tuesday, February 27th, we will hold one of my favorite NYWBA events, our Annual Judicial Reception, honoring the newly elected and appointed judges of New York County. We have good cause to be proud of our New York County judges. As one who started going to court in 1980, I can attest that New York County was the most friendly, most civil county to women and young attorneys. Our judiciary now reflects more than ever our gloriously diverse city. New York County was the first place I saw a courtroom where everyone, from the judge and court attorney to the part clerk and court officer, was a woman, when I first stepped into Judge Joan Lobis's courtroom. Many of our honorees are people we have watched from the time they were brilliant and accomplished colleagues and court attorneys, as they ascended to the bench, where we knew they belonged.
The NYWBA supports a strong and independent judiciary. As we saw in 1963 as well as today, and during so many difficult times in between, it is courageous members of our judiciary who have helped protect and keep our democracy safe and strong.
With all this in mind, we are finally moving from the power of #MeToo to "Time's Up, NOW." There is no excuse for abuse of power. There is no excuse for not knowing how to treat people who are not of your gender, job title, race, ethnicity or religion. There is no excuse for denying anyone's dignity. Let us all work together to make real and lasting change. As Dr. King wrote in Birmingham in 1963,
…when you have to concoct an answer for a five-year old son asking in agonizing pathos, "Daddy, why do white people treat colored people so mean?" …when your wife and mother are never given the respected title "Mrs."; when you are harried by day and haunted by night by the fact that you are a Negro, living constantly at tiptoe stance, never quite knowing what to expect and plagued by inner fears and outer resentments; when you are forever fighting a
degenerating sense of "nobodyness" – then you understand why we find it difficult to wait. There comes a time when the cup of endurance runs over and men are no longer willing to be plunged into an abyss of injustice where they experience the bleakness of corroding despair. I hope, sirs, you can understand our legitimate and unavoidable impatience…
Time is now up, at last. Let's continue to fight the good fight together. We shall overcome, together.
Myra