President's Message
November 2017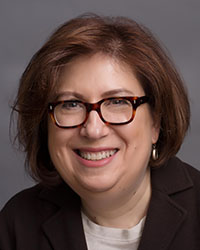 Change. With the start of November, I usually have my mind on coming changes, like the eventual transition from fall to the start of colder, wintry weather.  And I think of one of my favorite holidays, Thanksgiving, and being thankful.  This year I have so much more on my mind.
Elections.  November 7th is Election Day. Women have fought, risked their lives, reputations and livelihoods, gone on hunger strikes, been force fed, and died for our right to vote.  I hope that every woman, and all who care about democracy, will be sure to vote on Election Day.  One of the most important issues on the ballot, though hidden on the back, and easy to miss, will be New York Proposal 1 (also known as The Con Con)—which addresses whether New York State should hold a Constitutional Convention. Though some groups are hopeful that this could be a chance to gain rights not currently protected in our New York State Constitution, many caution that the Convention could be hijacked by enemies of progressive issues including Women's Rights, Worker's Rights, Reproductive Rights, and Gay and Transgender Rights.  Our friends at NOW oppose the Convention. Please get informed on this issue and discuss it with friends and colleagues so you will be prepared to vote.
I am very proud that our chapter, under the leadership of Immediate Past President Deborah G. Rosenthal, contributed to WBASNY receiving an award from the National Conference of Women Bar Associations, for its Voter Registration Project. Of the 1000 citizens WBASNY registered in our state, our Chapter, spearheaded by our Voter Registration Drive Co-Chairs, Nidhi Shetye and Vanessa K. Kaster, registered 461.  I also thank our Judiciary Committee Co-Chairs Magnolia D. Levy, Virginia A. LoPreto and Sabrina E. Morrissey for all their hard work in interviewing judicial candidates.
Gratitude.  As president, I am grateful to the Founders of our Association for their boldness and determination standing up to discrimination in starting our bar association.  I am grateful to all my predecessors for their leadership and hard work in building our great organization.  I am thankful to many of our recent past presidents and members of our Advisory Council for their friendship, generosity and advice and for being there to lend me their support and ease my burdens.  I am grateful to all our Committee Chairs for the wonderful work they do, including thoughtful meetings and compelling CLE programs.  I am thankful for our Newsletter Committee and all our contributors for the beautiful Association Newsletter they put together each month, which showcases all the great work we do and that of so many of our members.  I am thankful for all our WBASNY representatives and committee chairs, who work with our statewide organization on important issues and legislation.  I am grateful to our sponsors, supporters and sustaining members who help us carry out our important work. And I am grateful for our wonderful Executive Director, Karen Lu, who helps each of us all manage to do our best for all our members.  Thank you all.
Anger.  Despite everything I have to be thankful for, I find that I am angry these days.  I am so angry at one more mass murder of our neighbors, this time in Las Vegas, carried out by a single person with automatic weaponry.  I am tired of the pile up of thoughtless statements by public officials who will do nothing in response.  I am tired of prayers, memorials and tears about all the beautiful lives lost of children, families and friends and nothing done. I decry the lie of the depraved commentator who tweeted after Las Vegas, that "this [gun violence] is the price of freedom."  It is not.  It need not be. Please read the beautiful piece by New York Times columnist John Branch from October 12, 2017, about what happened to the parents of his 12-year-old daughter's soccer teammate and how the small town of Novato, CA reacted. We shall organize a forum in the coming months on the Second Amendment and work together to challenge this deadly lie head on.
Rage. I am enraged at the continual attack on our rights and bodies.  They don't want women to have access to birth control.  They don't want us to have access to medical insurance.  They don't want us to have choice or access to abortions.  They don't want us to have access to health care clinics.  Then, they claim to be "pro life," though obviously not ours. I am proud of the work being done by our Reproductive Rights and Health Committee, which is chaired by Meghan E. Carey and Brittany K. Lazzaro.  Stay tuned for all of their upcoming programs and updates.
Outrage.  Like you, I am appalled by ongoing revelations of the worst sort of sexual harassment, intimidation, assault, rape, and violence carried out by one of the most powerful men in a major industry over a period of decades. If it were by just one powerful man it would be sickening enough. But it is everywhere, in every industry, today in 2017, and not just by "those who came of age in the 60s and 70s." Seventy percent of harassment victims do not report their abusers, and most employees have little redress because of forced employment arbitration clauses. As members of the NYWBA, we are proud of the mentorship we have long provided to our members and colleagues.  Let's continue to do so and to make sure our mentees are safe and work in safe environments.  Let's make sure that when law students and lawyers alike go out on job interviews or are up for promotion, or are functioning in their everyday study and work environments, that they are treated fairly, appropriately, and with dignity at all times.  Let's be a voice and support for them when that does not happen.  Let us work with our male friends and allies to make this their issue, too.
Remember, we are stronger together.
Myra