President's Message
October/November 2019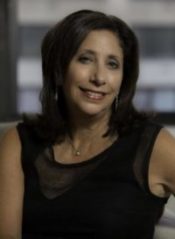 The good thing about having a second term as President (yes, there is something good!) is that we not only hit the ground running immediately but we did so sharing a vision of the importance of our association taking positions, speaking up, and being heard on issues that matter to women.
On July 9, our Reproductive Rights and Women's Health Committee joined with NOW-NYC in presenting "The State of the Uterus: Reproductive Rights Under Attack, Fighting Back From New York," a timely assessment of the widespread efforts to peel back women's rights under Roe v. Wade and the fight against those efforts. Special thanks to Committee Chairs, Meaghan E. Carey, Lydia Devine and Alex King.
The annual Martha E. Gifford Summer Program, "What it's REALLY like to Practice Law as a Woman," was held on July 11 where over 200 law students (and some high school students) and young women attorneys gathered to hear a panel discussion with four remarkable women, each one bringing her unique experiences, pathways and focus on different areas of the law, in government, private practice and law firms. (See page 6.) Special thanks to the Committee Chairs, Hon. Lisa A. Sokoloff and Victoria A. Turchetti. The NYWBA Foundation joined our push to take positions, speak up, and be heard by hosting members to attend "What the Constitution Means to Me," a "boundary-breaking" play that imagines how the Constitution will shape the next generation of women.
At our first Board meeting in September, the Board approved a position statement for submission to WBASNY voicing our objections to the deprivation of feminine hygiene products for young girls and women detained at the border. WBASNY accepted this statement and included it in its overall statement against the immigration policies in effect and their impact on women and children. Period poverty has long been an unavoidable problem but had largely been concentrated outside of the United States. It is now a real, urgent problem in this country, not only at the borders but for homeless young girls and women as well as those who are victims of domestic violence and human trafficking. Our Annual Membership Reception was held on September 16 and was geared towards addressing this issue. Our members did not disappoint. Hundreds of feminine hygiene products and drug store gift cards were donated by our members and given to The Manhattan Family Justice Center located in Manhattan. The Membership Reception provided not only an opportunity for new and would-be members to mingle, but we also invited a representative of the Safe Passage Project to meet with our members to coordinate volunteers representing unaccompanied immigrant children in New York City in the Immigration Court and Family Court. This organization has a seasoned group of attorneys to train and mentor the volunteers. This is a timely and critical opportunity to take a position, stand up, and be heard! Many thanks to NYWBA Past President Jennifer P. Brown and NYWBA Vice President Magnolia D. Levy for their work in bringing the Membership Reception together along with our Executive Director Karen Lu. In addition, the more than 100 people who attended loved our new venue at Blank Rome LLP and for that we thank NYWBA Director Morgan F. Mouchette.
Our Committee Chairs have been busy holding meetings, scheduling CLEs and meeting as a group with me in September. These meetings provide an essential opportunity for our Committee Chairs to meet with one another and brainstorm on joint programs. I also showed the short documentary, Equal Means Equal, Kamala Lopez's amazing film highlighting the continued efforts to pass the Equal Rights Amendment. Please keep an eye on our Calendar at nywba.org and read the weekly E-blasts. We have more than 12 meetings and CLEs this month alone, with more to come, from the Matrimonial and Family Law, Children's Rights, Litigation, Programs and Events, Domestic Violence, International Women's Rights, CLE, Civil Courts, Solo and Small Practice and Advancing the Status of Women Committees. These meetings are what membership with the NYWBA is about but that's not all. I keep going back to listen to Megan Rapinoe's speech at City Hall this past summer and cannot help but think of us: "We've got pink hair, purple hair, tattoos and dreadlocks. White girls, black girls and everything in between. Straight girls, Gay girls." We are a team, and we have battles to fight and win. Every member must be involved, aim to become a Committee Chair, Board Member and even President of our association and help us take important positions, stand up, and be heard.
Virginia