President's Message
December 2019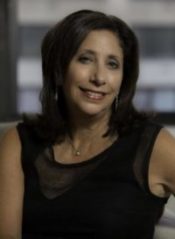 Every so often waiting until the last minute to get something done pays off.  In this case, I waited to draft this message until the very, very last minute and while waiting I was informed that Hon. Rosalyn Richter, an Associate Justice of the First Department, is being honored by the New York State Bar Association with the 2019 Ruth G. Schapiro Memorial Award!*
This Award honors those who have made a noteworthy contribution to addressing the concerns of women such as domestic violence, child abuse, bias, health and gender equality. Justice Richter's legal career has focused on many of these important issues. She began her career with a firm focused on family law and thereafter became an Executive Director and the first full-time attorney of Lambda Legal Defense and Education Fund where she fought against discriminatory legislation. Justice Richter is a long time member of our Association and WBASNY and has served as a mentor and role model for countless women attorneys. Most recently as part of her work for the City Bar Association she facilitated the collection of data on women appearing in the First Department. The Ruth G. Schapiro Memorial Award will be presented to Justice Richter at the NYSBA House of Delegates meeting on Friday, January 31, 2020 at 9:45 a.m. I welcome our members to attend and show support for Justice Richter.
There is more welcome news: Women's organizations throughout the country are celebrating the 100th anniversary of the passage and ratification of the 19th Amendment. And our Association and WBASNY are no exceptions. This year, on November 15, 2019, WBASNY co-chairs Liz Kraengel and Ravi Cattry organized an event for WBASNY members in Seneca Falls in celebration of 100 years of suffrage in the United States.
In addition WBASNY, along with our Association, is hosting an event on January 24, 2020 to address the future of the Equal Rights Amendment. The national effort to adopt a Federal Equal Rights Amendment gained momentum following the elections in Virginia, a state poised to ratify the Amendment shortly.  This event will provide a wonderful opportunity for us to learn about the work that needs to be done to make the Amendment a reality. So Save the Date! This meeting will include wine and dinner and is being held at the offices of LoPreto+Levy, LLP starting at 6:00 p.m. The event is the night before the WBASNY board meeting so I am hoping our delegates, board members and Association members will attend.
With all eyes on women's rights, the challenges to Roe v. Wade remain formidable despite strong public support for safe abortion care. In an earlier message I referenced the many states who had enacted restrictions and bans on access to abortion care. The ACLU is now undefeated, with a 7-0 record challenging state abortion bans in court—bans in Alabama, Arkansas, Georgia, Kentucky, Missouri, Ohio and Utah have all been blocked. Our Reproductive Rights and Women's Health Committee has been active in coordinating with local organizations to address what we can do to ensure that there is safe, accessible and affordable abortion care. If you have not joined a committee or if you are looking for one that resonates with you, reach out to the chairs at ReproductiveRights@nywba.org. We can never have too many women fighting for us!
* Justice Richter was nominated by NYWBA for this award to WBASNY who thereafter supported her nomination to the NYSBA. Special thanks to our Awards Committee Co-chair, Elyssa S. Kates, for her work in preparing the packet to WBASNY and NYSBA.
Virginia