President's Message
November 2023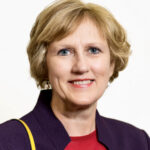 There is much to write about in this November edition. One proposed amendment to our federal Constitution, the Equal Rights Amendment ("E.R.A."), and the 14th Amendment are foremost on my mind:
On September 18th, I attended a 50th anniversary celebration of Ms. Magazine (and the publication of the book, 50 Years of Ms.) held in conjunction with a presentation on the E.R.A. at the Roosevelt House, Hunter College.  The keynote speaker was Tennessee State Representative Gloria Johnson (D), one of the "Tennessee Three."
There was a panel discussion featuring Ting Ting Cheng, Professor and Director of the Equal Rights Amendment Project at Columbia Law School, and former Congresswoman Carolyn B. Maloney, now Chair of the Fund for Women's Equality. Professor Cheng said, "[t]he current U.S. Supreme Court wants to take us back to the 1700's."  She said the U.S. has a "crack in the foundation" that the E.R.A. could start to mend.  She said, "[w]e cannot call ourselves a democracy without the E.R.A." Congresswoman Maloney talked about the history of the E.R.A. passage effort and how difficult it was to pass any legislation protective of or supportive of women's causes.
The recent history of the E.R.A. is this.  Through 1977, 35 of 38 states had ratified the amendment. Five states later rescinded their ratifications.  The original ratification deadline was March 22, 1979. In 1978, Congress passed and President Jimmy Carter signed a joint resolution with the intent of extending the ratification deadline to June 30, 1982.
After 2010, Nevada, Illinois, and Virginia ratified the E.R.A.  Proponents claim this brings the number of ratifications to 38.  However, experts acknowledge legal uncertainty about the consequences of Virginia's ratification due to expired deadlines and five states' earlier revocations (see eracoalition.org).
Eleanor Smeal, Feminist Majority Foundation President, made clear the view of the Foundation that the Amendment has already been ratified and that both the House and Senate have reached a joint resolution to pass it. She said all that remains is for Congress to vote to make the E.R.A. the 28th Amendment.  The view of some E.R.A. supporters is that if the E.R.A. were passed, decisions such as Dobbs v. Jackson, 597 US ___ (2022), and Students for Fair Admissions, Inc. v. Harvard College, 143 S. Ct. 2141 (2023), would be unconstitutional.
Senator Liz Krueger and Assembly Member Rebecca A. Seawright, drafters of New York's E.R.A. bill, also attended the event.
Where does New York stand on ratification?  On January 24, 2023, the New York legislature passed the E.R.A., officially bringing the amendment to New Yorkers for ratification on the 2024 November ballot.  The NY E.R.A. (S. 108-A Kreuger/A. 1283 Seawright) would prohibit discrimination by the government based on a person's ethnicity, national origin, age, disability, and sex — including their sexual orientation, gender identity, gender expression, pregnancy, and pregnancy outcomes. It would also protect against any government actions that would curtail a person's reproductive autonomy or their access to reproductive health care (see https://www.nysenate.gov/legislation/bills/2023/S108/amendment/A).
The E.R.A. has such a long, convoluted history at this point that more education is needed to teach younger generations why it is important.  It is imperative to get out the vote for the E.R.A. in November 2024. In these efforts, we can make a big contribution.
Turning to the 14th Amendment, since Students for Fair Admissions was decided by the Supreme Court in June 2023, much concern has been expressed about the impact of the decision, not only in universities and law schools, but in the legal workplace and judiciary.  The NYWBA has been at the forefront of examining the decision and expressing our opinions about how the holding may hurt the pipeline of law students, later to become lawyers and judges.
WBASNY was one of 12 local bar associations that met over the summer to draft and sign off on a letter responding to the Supreme Court's decision in Students for Fair Admissions.  The letter was published to affirm our commitment to maintain and improve diversity, equity, and inclusion in the judiciary. I was fortunate to sit in on one of the meetings and review drafts of the letter.  Marea Wachsman, Esq., President-Elect of WBASNY, participated fully in the process and approved the letter on behalf of WBASNY.  I was proud to be a part of this coalition.
The 11 other groups who signed the letter were:
Asian American Bar Association of NY
Caribbean Attorneys Network
Dominican Bar Association
Haitian American Lawyers Association of NY
Hudson Valley Hispanic Bar Association
LGBT Bar NY
Metropolitan Black Bar Association
South Asian Bar Association
A copy of the letter is reprinted in this newsletter and will be published in the "Resources" section of our website.  On September 1, 2023, the New York Law Journal published the letter on the front page.  Newswire also published the letter, which was reprinted by 346 other organizations. I am gratified by the broad outreach of our efforts.  This work is directly supportive of our mission statement, to promote the advancement of women in the legal profession and the fair and equal administration of justice.
On September 20th, the NYWBA hosted a Continuing Legal Education panel discussion on D.E.I.B., or Diversity, Equity, Inclusion, and Belonging, in light of the Students for Fair Admissions decision.  Amy Goldsmith, Esq. was the impetus for this event, and I thank her for her efforts.  We were fortunate to have Tara Toevs Carolan, Esq., Partner at Tarter, Krinsky and Drogin, LLP; Dean William Treanor of Georgetown Law School; and Sidnie Wilder, Esq., former Vice President of Global Human Resources at Tiffany, on the panel.  Dean Treanor explained the holding of the Court, in short, that the admissions programs of Harvard and the University of North Carolina violated the Equal Protection Clause of the Fourteenth Amendment.  He highlighted language from the decision, which is, "Universities may not simply establish through application essays or other means the regime we hold unlawful today. . . . [W]hat cannot be done directly cannot be done indirectly."  In other words, the student must be treated based on his or her experiences as an individual, not on the basis of race.  This part of the holding was reiterated in response to the question of what universities may continue to do to diversify their student body.  Dean Treanor said, in his opinion, schools will continue to use a variety of means to ensure that everyone who applies has an equal chance at success, such as essays, interviews, and scholarships.
Tara reassured us by recounting the different workplace laws that provide protections against discrimination, including the New York City Human Rights Law, the New York State Human Rights Law, and under Federal Law, Title VII of the Civil Rights Act of 1964. She included a quote from the Equal Employment Opportunity Commission press release dated June 29, 2023:
Today's Supreme Court decision effectively turns away from decades of precedent and will undoubtedly hamper the efforts of some colleges and universities to ensure diverse student bodies.  That's a problem for our economy because businesses often rely on colleges and universities to provide a diverse pipeline of talent for recruitment and hiring.  Diversity helps companies attract top talent, sparks innovation, improves employee satisfaction, and enables companies to better serve their customers.
Tara spoke about the immediate impact of the decision on employer practices and said it has prompted employers to evaluate their current hiring practices and initiatives.
Sidnie discussed the meaning of Diversity, which refers not only to race and gender, but also sexual orientation, age, national origin, physical ability, religion, and more; Equity, how fair and impartial the workplace is, with the goal of giving all employees equal opportunities to grow and progress; Inclusion, creating a welcoming environment for all; and Belonging, the newest addition to DEIB, representing affinity and positive relationships between employees of various backgrounds.  She explained why these concepts are important, not only in the workplace, but for vendors, suppliers, and everyone coming into contact with a business, and that D.E.I.B. is crucial to maintaining employee satisfaction and retention.
On September 28th, I attended a D.E.I.B. presentation sponsored by the New York City Bar Association. The speaker was Tanya Martinez-Gallinucci, Esq., Executive Director of the City Bar's Office for D.E.I.B., who opined that Students for Fair Admissions will cause irreparable harm to the legal pipeline.  She underscored the importance for everyone to learn about and understand bias and D.E.I.B. principles, stating, "[w]e cannot be taken in by the false rhetoric of colorblindness that the Court used as a foundation for its decision.  That line of reasoning wrongly assumes that equal protection under the law can be guaranteed uniformly to both the historically privileged and the historically excluded.  As Justice Jackson wrote in her dissent, the Court majority asks us to forget the injustices of our common past in order to assert that somehow 'preventing consideration of race will end racism'."
As with the E.R.A., there is much work to be done to protect and enhance D.E.I.B. both in the workplace and in the pipeline of future lawyers.
Since our last newsletter was published, our members have been busy.  Our delegates attended the WBASNY Board Meeting at St. John's University in Queens.  I am happy to report that after a full vote, two of our nominees will be supported by WBASNY for awards: for the Inns of Court Award, Harriet Newman Cohen, Esq., and for the Ruth G. Schapiro Award, the Hon. Edwina Richardson Mendelson, J.S.C.  We congratulate each nominee and are hopeful that she will receive her award.
We also attended, as a group, a memorial service given for Amanda B. Norejko, Esq., our past President, at New York University on October 3rd.  The Legacy Project presented an abbreviated version of the film made of Amanda's recent interview with Hon. Lisa A. Sokoloff, J.S.C.  The service was touching and was a wonderful commemoration of Amanda's life and her devotion to domestic violence causes.
Our well-attended membership reception was on October 5th.  We were fortunate to have Olivia Wilson, Esq. Director of the Manhattan Family Justice Center ("MFJC"), and Elizabeth Dembrowsky, Esq. of Elevated Access, speak to us about their life-saving work.  The MFJC provides survivors of domestic and gender-based violence and their children with connections to a myriad of organizations to help with case management, economic empowerment, counseling, civil legal, and criminal legal assistance. The MFJC was the beneficiary of our Period Poverty Project this year, through which supplies and gift cards are donated for distribution to domestic violence survivors.  Elizabeth was our keynote speaker and discussed the work of Elevated Access, the non-profit organization launched in 2022 in response to health care bans around the United States.  She told us about the mission of the organization: to connect people seeking access to reproductive and gender-affirming healthcare to volunteer pilots and to provide those people with flights on private planes across the U.S. at no cost.  Thank you to Olivia and Elizabeth and to our members who attended this wonderful event.  A special thanks also to Virginia LoPreto, Esq. and the Events Committee and our Executive Director Karen Lu, for their planning efforts, and Blank Rome LLP for hosting our reception.
As always, we have many upcoming events that will enrich and educate you. Please sign up and enjoy.  If you have not renewed your membership since March 1st, please do so now.
As we approach Thanksgiving, I wish you all a happy holiday, surrounded by those you love.
"Appreciation can make a day — even change a life. Your willingness to put it into words is all that is necessary."  Margaret Cousins, suffragist.
Sabrina