President's Message
September 2018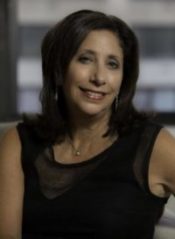 Summer was a perfect time for me to dive into my presidency and work with my directors and officers, and even more important, our wonderful, dedicated committee chairs who have been working tirelessly to help meet my three goals: Transform. Recruit. Persist.
In keeping with these goals, we once again sponsored the Martha E. Gifford Summer Program, "What it's REALLY like to Practice Law as a Woman" where over 200 young attorneys and law students (and some high school students)  gathered to hear a panel discussion with five remarkable women.  Each participant shared her unique experiences, pathways and focus on different areas of the law, in government, private practice and law firms. Special thanks to the Committee Chairs, Hon. Lisa A. Sokoloff and Victoria A. Turchetti. This program is our platform to Transform our Association to cover all practice areas; to Recruit young women to lead and excel; and to Persist in our fight for equal opportunity and the evisceration of sexism in the practice of law.
Here is what we have done so far:
Transform:  Before the take-off of our membership drive on September 6, 2018 at the Annual Membership Cocktail Reception, I am pleased to welcome the 28 new members who have already joined the NYWBA, each of them practicing law in diverse areas as evidenced by their interest in joining several of our Committees, such as the Federal, the International Women's Rights, the Litigation and the Employment and Equal Opportunity Committees. Our Calendar of Upcoming Events, printed in this issue and always available on our web page, illustrates the diversity in our programs, CLE presentations and social events.  Just to highlight a couple of these events, the Litigation Committee is meeting on September 27, 2018 at the Beer Bar (MetLife Building) for an evening of socializing and trivia; the Solo and Small Practice Committee is hosting "Practice and Perfect Your Elevator Pitch" on September 20, 2018 at the law offices of Committee Co-chair Gail Bader.
Recruit:  Because every picture has a story to tell, I ask you to turn to page 9 in this issue for the first edition of "Meet Your Committee Chairs." During my presidency, each newsletter will feature select Committee Chairs along with their pictures and a brief bio so you can see who is working for you in this Association.
In July we held the first of several meetings with the Committee Chairs, each of whom has made a commitment not only to the NYWBA, but to all of us, as they endeavor to address thorny legal issues, best practices, networking and overall mindfulness in our practice of law. In the past, this was an annual meeting, but now it will be a quarterly opportunity to regroup, adapt, and brainstorm about new and exciting ways to carry on our Association's mission. I can assure you that every Committee Chair has made a commitment to this endeavor and is proud to be identified for the work they have done and will do. Once again, we are fortunate to have our experienced members continue to mentor and guide our younger members and as you can see from the pictures and bios, we have made room for younger members to take on leadership roles and have strengthened our committees in all practice areas.
Persist:  While there are some positive developments to report (more than 400 women are running for political office in the United States; 56 of them for governor as of May 2018) the news across the board has been a sobering reminder of the work that still needs to be done. Top of my list is the utterly devastating article that appeared in The Atlantic regarding "no crying motions!"  Lara Bazelon recounted the experiences of, among others, Elizabeth Faiella, a trial attorney in Florida who has been the target of numerous "no crying motions" which seek to prevent her (and other women trial attorneys) from becoming "too emotional" during a trial and thus "swaying juries." Although the motions are never granted, Ms. Faiella ruefully noted that by filing them the "damage is already done" with the trial judge.
Recently, the US Court of Appeals for the 5th Circuit issued a stunning rebuke to a veteran judge sitting in Federal Court in Houston, Texas. After dismissing the indictment based on mistakes made by the prosecutors (women) the judge stated "We didn't let girls do it in the old days." The Appeals Court not only reinstated the indictment but directed that the case be heard by a different judge.
In July 2018 an article in the National Association of Women Lawyers noted that a male attorney opposed lead counsel's request for a continuance as she was soon to give birth, likening her pregnancy to an illness and going as far as to suggest she purposefully got pregnant to delay the trial. Fortunately, the trial judge did not agree and the attorney who made those remarks has been suspended from his law firm pending further review.
Closer to home I have been informed by a couple of our younger members that they have had to endure sexist remarks during depositions—from being mistaken for the stenographer, to being "schooled" on how to defend or conduct a deposition. Our Litigation and Advancing the Status of Women in the Profession Committees will be holding a CLE program to address how to combat such comments and how and when to bring them to the attention of the presiding judge.
News of the ABA's recent survey of big law firms commissioned by its President, Hilarie Bass, is no less ominous.  The report is due after Labor Day, but meanwhile Ms. Bass reports that almost half of the women in these law firms are gone by the time they reach 50. One of the largest areas of divergence between male and female attorneys was compensation.
In my first Message, I looked to Eleanor Roosevelt for a quote to inspire us to do accomplish the mission of NYWBA. This month, given the state of the practice of law for women, I am drawn to Madelaine Albright's quote: "There is a special place in hell for women who don't help each other."
Virginia