President's Message
October 2020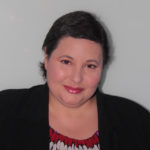 It has been inspiring to see how well our Association has adapted to our social-distancing reality this year.  Our committees continued to deliver stellar content and camaraderie through virtual media.  On September 24, 2020, the NYWBA took our Annual Membership Reception virtual.  In order to give new and prospective members an opportunity to learn more about the exciting opportunities our Association has to offer, we held virtual break-out rooms with many of our popular substantive law committees for attendees to introduce themselves and talk about their plans for this year. Everyone who registered for the event received an NYWBA logo face mask in the mail.  Many thanks to NYWBA Past President Virginia A. LoPreto and Vice President Magnolia D. Levy for their work in reconceptualizing our reception and for bringing it to fruition alongside our Executive Director, Karen Lu, without whom none of these events would be possible.
October is Domestic Violence Awareness Month. This time of year has special significance for me. Twenty-one years ago, I met my husband at our first Domestic Violence Awareness Month event, a march in Riverside Park with survivor advocates and service providers from around New York City.  We were both studying at NYU School of Law and volunteering with the Courtroom Advocates Project, a pro bono program run by Sanctuary for Families and New York Legal Assistance Group that utilizes law students to assist pro se litigants petitioning for Orders of Protection in Family Court. Inspired by those experiences, I spent most of the next two decades providing legal services to survivors of domestic violence and their children. What I learned from the courageous women and men who came to me for help transforming their lives will stick with me for the rest of mine.
Unfortunately, the desperate need for these services for survivors continues, and the COVID-19 pandemic has only exacerbated the danger and narrowed the options available to those seeking freedom from abuse. Forced to quarantine together, victims lack the privacy they need to reach out to crisis hotlines for help.  An economic crisis increases the ability of perpetrators to utilize finances as a tool of abuse.  Unemployment makes it harder to afford to move out of an abusive home.  The United Nations estimated that there was a 20% increase in domestic violence cases during the COVID-19 lockdown.  Home isolation often empowered abusers and reduced escape options available to victims. Governments largely failed to prepare for the way the public health measures imposed to curb the spread of infection would create another public health crisis by giving abusers increased opportunities to terrorize their victims.
Our NYWBA Domestic Violence Committee, led by Co-Chairs Shani Adess, Margaret C. Farmer, and Laura A. Russell, conducted a CLE program on September 2, 2020 titled "When Home is Where the Hurt Is: Assisting Immigrant Domestic Violence Survivors." The program highlighted the challenges faced by immigrants who are subjected to intimate partner violence and the legal remedies available to them.
While Orders of Protection are often a critical component to ensuring the safety a domestic violence survivor, there are a host of other needs that must be provided to help survivors and their children live free from violence.   Access to housing, health care, child care, and economic self-sufficiency are all factors in obtaining and maintaining survivors' safety.
I hope that this October, NYWBA will choose to become an ally to survivors of domestic violence. There are many opportunities to get involved in this cause through volunteer work – both legal and non-legal, donating to a domestic violence charity, posting awareness-raising messages on social media, and wearing purple on October 22, 2020 to start a conversation about intimate partner abuse.
One key element to combating domestic violence is economic empowerment.  Women are particularly at risk of economic abuse. Wage inequality, lack of paid parental leave policies, employment discrimination, and a wide range of structural inequities cause women to be more likely to experience poverty and less likely to obtain promotions to the highest levels of their profession or to accumulate comparable wealth to their male counterparts.  Women have suffered a proportionally greater impact on their finances due to the COVID-19 pandemic with more women than men losing their employment or having to curtail their work activities to shoulder a greater share of the burden of child care after the closure of schools and day care facilities.
In September 2020, the NYWBA launched a "Financial Fitness" series, which focused on women's economic empowerment. Ameriprise Financial Services, LLC and BlackRock Investments LLC presented "Women, Wealth, and Well-Being," to offer key investment information to members at various stages of their careers.  Prudential Advisors offered "Bridging the Working Women Retirement Income Gap" to discuss challenges faced by women in planning for retirement.
October is also Breast Cancer Awareness Month.  Last month, I had the pleasure of attending the Judges and Lawyers Breast Cancer Alert (JALBCA) Virtual Gala, held on September 8, 2020. Co-Presidents Jaci Flug, a Past President of WBASNY, and Hon. Saliann Scarpulla, an NYWBA member, did a fantastic job transforming JALBCA's gala into a fun and compelling virtual event.  Congratulations to the JALBCA honorees: Honorable Jenny Rivera, Judith Livingston, Esq., and the IBM Legal Department! The Gala highlighted critically important services, including awareness-raising medical screenings, and legal services, funded by JALBCA. Donations to support this great work can be made at https://jalbca.org/donations/
The NYWBA is a community that cares about the issues affecting women's lives. I hope you'll join us this year and use your knowledge and talent to make a difference by becoming active in our Committees and raising your voice to help empower others.
Amanda