President's Message
May 2022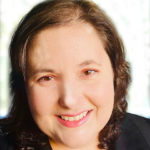 It is hard to believe that after two long years, this will be my last President's Message in our newsletter.
We have been through some serious challenges together, and we have managed to keep our Association strong and connected. With over 700 members and great participation in our events and CLEs, we continue to thrive was we enter our 87th year since 11 intrepid women incorporated a new bar association that would help change the experience of women in the legal profession forever. The difficult times we have faced and their impact on women in the workforce have galvanized our resolve to keep working toward our mission to elevate the status of women.
I am thrilled to pass the torch to our incoming NYWBA Officers, who were elected at our Annual Meeting on April 26, 2022. Congratulations to 2022-2023 President Magnolia D. Levy; Vice Presidents Jocelyn L. Jacobson, Melissa Ephron-Mandel, and Sabrina E. Morrissey; Treasurer Lissett C. Ferreira; Recording Secretary Vivian Rivera Drohan; and Corresponding Secretary Morgan F. Mouchette. The NYWBA will be in very capable hands, and I look forward to seeing it blossom as we begin to reclaim some of what we missed during the two long years of the pandemic.
There is also an exciting year ahead on the statewide level. NYWBA Past President Deborah G. Rosenthal will be installed as WBASNY's 2022-23 President at the upcoming WBASNY Convention. This is the first time our chapter has produced a WBASNY President since the legendary Martha E. Gifford, who served as WBASNY President from 2001-2002. Please consider joining us to celebrate this historic event at Convention, which will be held in person for the first time since 2019 at the Kartrite Resort in Monticello, NY from June 2-5, 2022. For more information, please visit https://www.wbasny.org/convention-2022/.
Once again this year,  Frankfurt Kurnit Klein & Selz hosted an ethics CLE program following our Annual Meeting of the membership on April 26, 2022. A panel moderated by Nicole I. Hyland and including presenters Hon. Shahabuddeen Ally and Elizabeth Tuttle Newman addressed "Hot Topics and Current Developments in Ethics."
The NYWBA also offered a wide variety of other CLE programs in the month of April. On April 5th, the Pro Bono and Community Service Committee presented a CLE program on "Applying an Equity Lens to Pro Bono." On April 27th, the CLE Committee presented a program in collaboration with the Data Privacy and Security Roundtable of USA500 Clubs on "So You've Been Breached, What's Next?" which was moderated by Amy B Goldsmith, NYWBA Board Member and CLE Committee Co-Chair.
Don't miss the upcoming May CLE programs, including "Computer Tech Skills Every Lawyer Needs to Know," which will be presented by the Solo and Small Firm Practice and Civil Courts Committees on May 5th; "Re-Thinking Careers in Post Pandemic World" presented by the Litigation and Students and New Lawyers Committees on May 10th; "Current Issues in Commercial L&T/Part 52 Practice" presented by the Civil Courts Committee on May 24th; and "The Ethics of Pro Bono Practice" presented by the Pro Bono and Community Service Committee on May 26th.
Mother's Day falls on May 8th this year. While some of us may not have children, most of us have or had a mother or mother-figure at some time in our lives. My own mother recently told me that when she was young, she said she wanted to be a lawyer but was told that a girl like her from a poor family would be laughed out of the courtroom if she tried. Discouraged from her dream, she abandoned it and made a successful career as a nurse instead. When I expressed the same dream as a teenager and other mothers in our small town told my mother that she should make me give it up as unrealistic, she refused. Instead, she told them "Have you seen my daughter? She can do anything she sets out to do." She never told me that I couldn't do it, so I went ahead and did it. I will forever be grateful to her for allowing me to pursue my passion and build this career in the legal profession that has given me so much.
Many mothers face extreme hardship in trying to keep their children safe and give them a brighter future. In honor of Mother's Day, the NYWBA Domestic Violence Committee is encouraging our members to support mothers fleeing from lives of violence by donating gift cards to the Manhattan Family Justice Center (FJC). The FJC is a safe, caring environment that provides one-stop services and support for survivors of domestic and gender-based violence. Many legal services and social services organizations serving Manhattan residents meet their clients at the FJC. Those clients are often mothers  in need of emergency financial assistance to buy food, clothing, diapers and wipes, and other small necessities. Gift cards handed to them by the FJC staff enable them to access these necessities near their home or shelter. Our Domestic Violence Committee asks that you join them in celebrating Mother's Day by helping a mother in need.
Finally, as I say goodbye to my time as NYWBA President, I want you to know that it has been an honor and a privilege to serve you. Your trust in me to carry out this position throughout my ongoing cancer treatment has inspired me to utilize whatever abilities I possessed to promote our mission even in the toughest circumstances, and I hope that I have done justice to the role. It is hard to believe that my second terms is soon coming to an end, but I am thrilled to see where this Association is going next under the capable leadership of the next President.
I am grateful for all the work of our fantastic Officers, Directors, Advisory Council, Committee Chairs, and especially our Executive Director, Karen Lu. I would like to extend my deepest gratitude to the 2021-2022 Officers, Vice Presidents Magnolia D. Levy, Jocelyn L. Jacobson, and Melissa Ephron-Mandel; Treasurer Sabrina E. Morrissey; Recording Secretary Lissett C. Ferreira; Corresponding Secretary Morgan F. Mouchette; and Immediate Past President Virginia A. LoPreto, for their outstanding commitment to this Association as well as their creativity and vision. To our entire membership, I am thankful to you for the myriad ways in which you have all inspired me through your contributions of time, energy, and ideas. It is your continued presence that has sustained this Association through the pandemic and will lead the way into our next chapter and a brighter future for us all.
Amanda
"We must be authors of the history of our age." – Madeleine Albright