President's Message
January 2020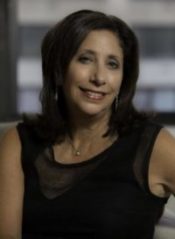 "So I would like my granddaughters, when they pick up the Constitution, to see that the notion – that women and men are persons of equal stature – I'd like them to see that is a basic principle of our society."
Ruth Bader Ginsburg
One cannot go wrong starting a message to women in law with a quote from our beloved RBG. This particular one was chosen as the year 2020 promises to bring the Equal Rights Amendment to front and center stage. While legal scholars may differ as to whether the anticipated ratification by Virginia will, without more, be sufficient to pass the ERA at this late date, it is nonetheless clear that the ERA is alive! WBASNY and the NYWBA are presenting a CLE on the ERA on January 24, 2020 at 6:00 p.m., generously hosted by Proskauer Rose. Hon. Betty Weinberg Ellerin will be the moderator for a dynamic panel of women fleshing out the possibilities for the passage of the ERA. (Please see page 7 of the Newsletter for information.)
While Justice Ginsburg and the ERA get top billing this month, it in no way diminishes the honor and privilege I have in announcing that Amanda B. Norejko has been nominated to serve as President of the NYWBA for 2020-2021—and in fact there is a connection: Amanda struggled last year with her own health issues, has made a wonderful recovery and is going to be spectacular in leading our association!
Currently, Amanda is a Family Court Support Magistrate in New York County. Prior to that, and for many years, she was the director of the Matrimonial and Economic Justice Project at Sanctuary for Families where she specialized in the representation of domestic violence and trafficking survivors. Amanda is a long time co-chair of the NYWBA Domestic Violence Committee as well as the WBASNY DV Committee. She has been an Officer for several years, serving in several capacities, most recently as one of my vice presidents. Amanda hears the clarion call for women lawyers and the issues we face in the law and in our communities! Congratulations to all of our nominees for Officer positions, and particularly the new additions: Hon. Laura E. Drager (Vice President) and Lissett Costa Ferreira (Corresponding Secretary). In addition, it is with great pleasure that I announce that our long-time board member and chair of many of our committees, notably Membership, Judiciary, and Auction Committees, Michael W. Appelbaum, will join the NYWBA Advisory Council as of June 1. Michael will also be honored with the association's Doris S. Hoffman Service Award at the Annual Dinner on June 9, 2020.
As many of you know, January is our membership drive month and it is crucial that everyone renews, even if you have not been a member for a year or two. I meet many women attorneys, especially younger ones, who tell me they are ready to come back! Our careers take many trajectories and some times are better for membership than others. But in reality, every time is the best time to be a member of the NYWBA. Every year, and this one is no exception, we bring in about 100 new members, and yet our overall membership numbers have remained stagnant the last few years. This means we lose members as well. If you know someone who was a member and has not rejoined, bring them back! Although our many committees, programs, and networking opportunities should be enough to inspire you, we will hold two membership raffles: We will raffle a gift certificate to Exhale Spa which will be drawn from all members who renew their membership this month. For those members who did not renew last year (2018-2019) but join again, we will raffle a gift certificate to Soul Cycle—to get you in shape for the spectacular year to come as a NYWBA member.
Here are a few of the programs and events we have lined up:
• January 23, 2020: NYWBA Federal Practice Committee and the Federal Bar Association are presenting a CLE: "Servicing and Responding to Federal Non-Party Subpoenas: A Practical Overview." This is a live program and a Webinar.
• February 5, 2020: Matrimonial and Family Law Committee presents: Elements of a Cross-Examination by Hon. Laura E. Drager.
• February 5, 2020: Trust and Estates Committee presents a CLE: "Contested Probate Proceedings."
• February 25, 2020: the Annual Judicial Reception, held at the Yale Club. (ticket prices reduced for members)
I look forward to this New Year and working together with our officers, directors, committee chairs, members, advisory council and executive director in making our organization the one that puts women lawyers first!
Virginia