President's Message
September 2023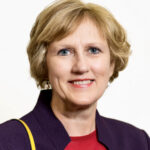 It is with heavy hearts that we reconvene after the summer break, without our beloved Amanda B. Norejko, Esq. in our ranks. Amanda lost her 4-year battle with ovarian cancer at the beginning of August. We continue to mourn her loss and, again, extend our condolences to her husband and family. Amanda was our friend, a treasured member of our association and a professional in every sense of the word. She gave her time and intellect to us on so many occasions. Our Board Meetings, events and discussions will not be the same without her presence and thoughtful contributions.
On July 28th, Governor Hochul announced that Hon. Kelly O'Neill Levy, J.S.C. would be elevated to a Justice of the Appellate Division, First Department. Judge O'Neill Levy has served as a Justice on the Supreme Court since 2017. Prior to that, while in Civil Court, she served in many roles, including Administrative Judge of the Harlem Community Justice Center. Before becoming a Judge, she was a principal law clerk to the Honorable Sherry Klein Heitler and the Honorable Rose Rubin. She currently serves NYWBA as a Board Member and Committee Co-Chair. We congratulate her and wish her all the best in her new role at the Appellate Division!
We have had a busy summer. We worked with WBASNY on the issuance of 2 press releases. One was in response to the SCOTUS decision in Students for Fair Admissions, Inc. vs. University of North Carolina and Students for Fair Admissions, Inc. vs. Harvard. The other press release re-affirmed WBASNY's committee to diversity hiring at law firms. Both statements are found on our website in the "Press Release" section. Our members should be aware of the impact we have on issues of import to our membership and supportive of our mission. I want to thank our Officers, Directors and Advisory Committee members who offered their insights on these two issues, as well as our WBASNY Liaison, Teresa Nuccio, Esq., who was very helpful in communicating with the WBASNY Officers for us.
On June 13th, the Criminal Law Committee had a mixer at Mezcali downtown. This was a fun event with good food and discussion. On July 12th, the Immigration Committee hosted a meet and greet at the Bryant Park Grill. This was a lively meeting, if hot! These two groups are poised for growth and to have a busy year. On June 20th, the Elder Law & Disabilities Committee held a Meditation event at Sunrise at 56th Street. The food was outstanding, and Diana, the Happy Lawyer presented on the basics of stress reduction and meditation. On July 25th, the same committee had a Lunch and Learn, moderated by Marcy Einhorn, Esq., to discuss how ADR might be implemented in guardianship cases.
On July 26th, the NYWBA was proud to be one of at least 40 bar associations who sponsored a reception for our new Chief Administrative Judge, Joseph A. Zayas. Judge Zayas's appointment is monumental, as he is the first Latino Judge to serve in that capacity in New York. Lissett Ferreira, Esq., Treasurer of NYWBA, and a member of the Puerto Rican Bar Association, was a member of the event planning committee. The reception was a well-attended and moving event, at which Chief Judge Rowan D. Wilson introduced Judge Zayas. When Judge Zayas spoke, he emphasized how he had initially not wanted to accept the position. However, after Judge Wilson explained his vision for improvements to be made to the New York Court system, Judge Zayas felt encouraged to take the job.
We started our membership drive a little bit early, at the Martha E. Gifford Summer Program, "What It's Really Like to Practice Law as a Woman," panel discussion and reception on July 18th. Hon. Lisa A. Sokoloff, J.S.C. did a masterful job moderating this well-attended event. We had 4 excellent speakers, including our Recording Secretary, Crystal Villaseñor, Esq., who answered questions and described their own experiences as they advanced from new lawyers to the present. We also did the ceremonial passing of the gavel from our Immediate Past President, Magnolia D. Levy, Esq., to me.
We continued our emphasis on membership when the Diversity, Equity and Inclusion Committee visited with students at the Northeast Black Law Students Association Job Fair at New York Law School on August 4th. I stopped by for a visit, and it was inspiring to see so many minority students who are on their way to becoming lawyers in New York and, hopefully, members of NYWBA. Good work by this committee in supporting the NEBLSA!
Given the loss of Amanda, it is extremely difficult to move forward, but we must. At the end of Summer, our membership drive goes into full swing. We have scheduled our Membership Reception at Blank Rome on October 5th. If you work with or meet another attorney who is not a member, please let them know all the reasons why NYWBA is a beneficial organization and encourage them to join. Accompanying them to the Membership Reception is a good way to introduce them to us and help them to feel comfortable from the outset. Members' reflections on the value of membership will appear in this and future issues of the Newsletter. If you have not renewed your membership since March 1st, please do so now.
Our featured speaker at the Membership Reception will be Elizabeth Dembrowsky, Chief Resource and Advocacy Officer at Elevated Access. This organization is a non-profit launched in response to health care bans around the country whose mission is to connect people seeking access to reproductive and gender affirming healthcare to volunteer pilots and to provide those people with free flights on private planes across the United States. Her presentation is sure to be thought-provoking and galvanizing.
At the October 5th reception, we will also be collecting donations for the Manhattan Family Justice Center ("MFJC"). Please bring either period products or a gift card to be donated upon admission to the reception. This worthy organization was established through the Mayor's Office to assist those suffering from domestic and gender-based violence and their children. The MFJC connects victims of violence to organizations that provide case management, economic empowerment, counseling, civil legal, and criminal legal assistance. Services are provided regardless of language, income, gender identity, or immigration status. The MFJC was recommended to us by Amanda. Thank you, in advance, to Virginia A. LoPreto, Esq., for her work on this event and to Blank Rome LLP for permitting us to use their space.
We also have numerous other excellent events scheduled for the upcoming weeks. The Immigration Committee has a CLE program scheduled on Zoom on September 13th from 1–2:30 pm. The topic is "Employment-Based Immigration: Paths to Temporary and Permanent Immigration for Individuals with Extraordinary Ability, Treaty Traders and Investors, Specialty Occupation Workers, and Intracompany Transferee Managers, Executives, and Specialized Knowledge Workers," and the presenters are Marcella B. Marucci, Esq. and Angela Torregoza, Esq.
We have a panel discussion CLE scheduled on September 20th at 1 pm, entitled "Hiring and Diversity: Students for Fair Admissions, Inc. vs. Harvard and UNC" with a powerhouse panel, including Tara Toevs Carolan, Esq., a partner in the Labor & Employment Practice of Tarter Krinsky Drogin, LLP, Sidnie Wilder, Esq., former Vice President of Global Human Resources at Tiffany and Director of Employee Relations at Barnes & Noble College Division, and Dean William Treanor, Georgetown Law School. The presentation may be hybrid but will be available on Zoom.
The ADR Committee has an interesting CLE program scheduled on Zoom for October 13th at 12:30 pm. The topic is "Mediation Tips for Personal Injury Practitioners." The presenter is Tania Pagan, Esq.
We are excited to have a presentation on October 30th by attorneys from Lieff Cabraser Heimann & Bernstein, LLP and Outten & Golden on Chen-Oster v. Goldman Sachs, Inc., Case No. 10-6950 (S.D.N.Y.). This case, which recently settled, was brought against Goldman Sachs, claiming systemic and pervasive discrimination in pay, promotions, and performance violations under Title VII of the Civil Rights Act of 1964 and the New York City Human Rights Law. This presentation, too, may be hybrid but will be available on Zoom.
As your schedules permit, I encourage you to attend events sponsored by our committees and our members. A lot of work goes into planning these events, and it is gratifying to have a good turnout. I know they all will appreciate your support.
Our Board Meeting is scheduled for September 13th at 6 pm on Zoom. I look forward to seeing our Officers and Directors and discussing the business of our organization leading into the new season. We will have a presentation by our Foundation President, Laurie Berke-Weiss, Esq., who will tell us about the state of the Foundation and discuss events the Foundation has planned for the upcoming year. I have also asked Magnolia, a Vice President at JALBCA, to present on upcoming events planned by JALBCA this year.
In closing, I am excited about the next 9 months and what my Presidency holds. I am so grateful for the support I have received and will continue to reach out for help, as there is much to do in an organization as vibrant and important as this one. It is urgent that we remain vigilant and active on issues of choice and workplace discrimination. Without a doubt, NYWBA will continue the fight for justice and to promote the advancement of the status of women in society and of women in the legal profession.
In the words of Rev. Martin Luther King, Jr., "Injustice anywhere is a threat to justice everywhere."
Sabrina