President's Message
January 2019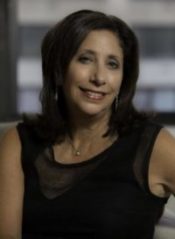 By the end of January I detest the list and avoid it, all crunched up at the bottom of my purse. By February I've bought a new purse." Nia Vardalos, "The List"
The New Year is here and once again many of us are struggling with either making a New Year's resolution or avoiding the idea entirely, which frankly, has the same net effect: we can't help but wonder what we can do differently, better or not at all. Last year, after reading a late December editorial by the author Ann Beattie I was inspired to give up personal shopping and purchase only "need" items. She, like me, had been raised with the idea of deprivation: Lent! Several years ago I realized that depriving myself of my favorite foods, wine and the like was not in the spirit of Lent, so I, like Ms. Beattie, started giving up personal shopping for the 40 days of Lent. Now, Ms. Beattie was talking about an entire year. I rose to the challenge. I did not make a single purchase for over 6 months! And after that I made only "need" purchases, which admittedly became a bit loose as we headed into December with all of the sales. Nonetheless, I can admit it was satisfying, saved me lots of money, and ultimately gave me a deeper appreciation of the impact we as individuals can have as I complemented the shopping deprivation with an increased dedication to community, giving and sharing.  With this anecdote, I leave you each to your "resolutions" and let's focus on the "New" in the New York Women's Bar Association as we begin 2019.
What's New? We have 126 New members which means we are reaching more women lawyers (and our allies) who are invested in advancing the status of women in the law. Our New members include newly admitted attorneys as well as experienced attorneys. This powerful combination enables us to provide opportunities to train, or be trained, to mentor or be mentored and to create a pipeline for and among women lawyers.
We have a New Committee: Immigration. Our website will be updated to reflect this committee and I encourage everyone who has an interest, not only in the practice of Immigration Law but in the immigration issues confronting our country to join. We are putting together a meeting wherein the speakers will give us first-hand reporting from a detention center in Texas. Check the website calendar as well as future e-blasts for specific information.
We have two New Chairs for our Employment and Equal Opportunity for Women Committee: Megan S. Goddard, principal of Goddard Law, PPLC, is an employment discrimination lawyer devoted to protecting equality in the workplace; and Diana Sen, Regional Director of the Office of Federal Contract Compliance Programs Northeast Region, is entrusted with leading the agency's enforcement and outreach efforts. Their full bios will be included in our next newsletter. Having promised not to despair during this holiday season for now I can only say there is much work to be done and these two women are not only capable but eager to bring their resources to our association.
In December, we hosted two New CLE programs. Women Lawyers at the Crossroads: What's Next?  I hope this will become an annual program devoted to bringing experienced women attorneys to the table to share their experiences and advice. We also hosted a real estate CLE, our first ever, Nuts and Bolts of Real Estate Transactions.  As you can see from the calendar in this issue, we are hosting several CLE programs in January alone. These programs address cutting-edge and New issues: our committees do not simply recycle prior programs. Our committee chairs work hard at identifying legal trends, needs and the speakers capable of informing us.
Congratulations to our New nominees for director positions on our board, Judith E. White, Co-Chair of the Matrimonial and Family Law Committee, Vivian R. Drohan, Chair of the Federal Practice Committee, Lissett Ferreira, Co-Chair of the Elder Law and Disabilities Committee, Alexandra King, Co-Chair of the Newsletter Committee, and Tara Diamond, Co-Chair of the CLE and Children's Rights Committees.
Congratulations also to Dawn M. Cardi, Co-Chair of the LGBT Committee, nominated as Recording Secretary, Melissa G. Ephron-Mandel, Co-Chair of the Civil Courts Committee, nominated as Corresponding Secretary, and Sabrina E. Morrissey, Co-Chair of the Elder Law and Disabilities Committee, nominated as Vice President.  Many thanks to long-time board members, Hon. Kelly O'Neill Levy, Susan M. Moss and Catherine M. Foti who will join our Advisory Council as of June 1 and be among many of our past presidents and devoted members who provide the current officers and directors, myself included, with their guidance, wisdom and support.
We will have the drawing for the Dean & DeLuca raffle at our board meeting on January 12, 2019.  All lapsed members who renewed by December 31, 2018 will be eligible. Three months of charcuterie will get you through Super Bowl Sunday, President's Day recess, the return of daylight savings time and Spring Break!
I look forward to this New Year and working together with our officers and directors, committee chairs, members, advisory council and executive director in making our organization the one that puts women lawyers first!
Virginia