Remembering Honorable Sheila Abdus-Salaam
Remembering
HONORABLE SHEILA ABDUS-SALAAM
Associate Judge of the New York Court of Appeals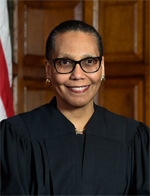 It is with great sadness that the New York Women's Bar Association reports the passing of Honorable Sheila Abdus-Salaam, long-time member, supporter, and dear friend.
Judge Abdus-Salaam rose from a working-class childhood in Washington, D.C. to attend Barnard College and Columbia University School of Law.  She started her legal career as a legal services attorney, served as an Assistant Attorney General for New York State, and served as General Counsel of the New York City Office of Labor Services.  In 1991, she was elected a Judge of the New York City Civil Court, whereupon she became the first Muslim to serve as a judge of any court in the United States.  She was later elected and re-elected as a Justice of the New York Supreme Court.  In 2009, she was appointed as an Associate Justice of the New York Supreme Court's Appellate Division for the First Department.  In 2013, she was appointed to serve as Associate Judge of the New York State Court of Appeals, becoming the first black woman to serve on New York's highest court.
Judge Abdus-Salaam was a gifted jurist who dedicated her life to public service.  In 2013, NYWBA was proud to present her with its pretigious Doris S. Hoffman Service Award.  We will include a full tribute to Judge Abdus-Salaam in a future NYWBA Newsletter, but today we want to celebrate her extraordinary life, intelligence, wit, and kindness. She will be terribly missed by all.
We send our sincerest condolences to Judge Abdus-Salaam's family and many friends.  As soon as it is available, NYWBA will forward information concerning memorial arrangements and any preferred charity designated for donations in her memory.