Amy Saltzman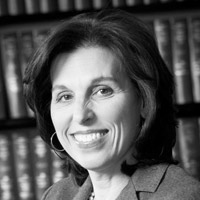 Amy Saltzman, is a matrimonial and family law practitioner who spent close to a decade working with parents and children as a public interest litigator.  In 1994, she founded the legal services program of the Rockland Family Shelter, and later served as director of the domestic violence unit of Westchester/Putnam Legal Services. She then practiced complex matrimonial litigation with Cohen, Goldstein & Silpe until establishing her own practice focusing on matrimonial matters in 2003. She has given numerous lectures to lawyers on family and matrimonial law topics such as custody and visitation, family court litigation, domestic violence, and divorce.
In September 2014, Ms. Saltzman was named one of the Top 50 Women of the New York Metro section of Super Lawyers, which was also published in the New York Times. Ms. Saltzman has been a member of three chapters, Rockland, Westchester, and New York County and an active WBASNY member since 1994.  She has been on the Board of Directors of the New York County Women's Bar Association since 2001 and served as a Vice President prior to becoming the WBASNY Recording Secretary in 2013. She has been a delegate to WBASNY for many years and was the co-chair of the Domestic Violence Committee. Ms. Saltzman is a former member of several committees of the New York City Bar Association and currently a member of the Legal Advisory Committee of Sanctuary for Families.
Ms. Saltzman received her J.D. from the City University of New York Law School at Queens College in 1988. While in law school, she served as a law clerk to the Hon. Kristin Booth Glen, the former Surrogate of Manhattan. Ms. Saltzman also holds a Master's Degree in special education. She has been admitted to the New York and Vermont state courts, as well as the United States District Courts for the Southern and Eastern Districts of New York.
Ms. Saltzman resides in Manhattan with her partner, Harvey Siegel.  She is the proud mother of two grown children, Megan and Max.