Jennifer P. Brown
President 2015-2016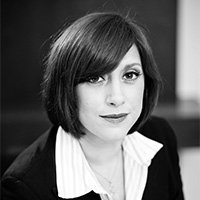 Jennifer P. Brown was born and raised on Long Island as the only child of Lynn and Errol Brown. From an early age, she had a strong sense of right and wrong and never backed down from anargument when she felt that she, or someone else, was being wronged. Not surprisingly, she was always encouraged by her family to become an attorney.
Ms. Brown moved to Manhattan to attend New York University, where she graduated in 1998 with her B.A., having majored in Sociology and Women's Studies. Immediately thereafter, she enrolled in law school at the Benjamin N. Cardozo School of Law, where she obtained her J.D. in 2001. She was admitted to the New York State Bar, and the United States Federal Courts for the Southern and Eastern Districts of New York in 2002.
Immediately after law school, Ms. Brown began working at a small family law office on the Lower East Side of Manhattan, which charged fees on a sliding scale and provided services to people from all walks of life in New York City. She worked her way up the ranks in that firm until she left in the beginning of 2010 to start her own solo practice. Ms. Brown is presently the owner of her own Manhattan matrimonial and family law firm, Jennifer P. Brown, PLLC, where she resolves matters when possible through alternate disputere solution, and through litigation and trials when that is not possible.
Ms. Brown has been very active in the NYWBA since she became a member in 2005. She has served on numerous committees, including cochairing the Matrimonial and Family Law Committee, which is the NYWBA's largest and most active committee, and organizing substantive programs on a monthly basis. Additionally, Ms. Brown has been a Co-Chair and organizer ofthe NYWBA's largest annual events, including the Annual Membership Reception for current andprospective members; the Judiciary Reception, where we honor the newly elected, re-elected and newly appointed judges in Manhattan; and from 2011 to 2014, the Annual Awards and Installation Dinner.
Ms. Brown was elected a Director of the NYWBA Board of Directors in 2011. Prior to being elected President, she served as the NYWBA's Corresponding Secretary, Recording Secretary,and for two terms as Vice President. She has also represented the NYWBA at the statewide level as a member of the WBASNY Board of Directors since 2012, where she has served on the Nominations Committee for several years and co-chaired the Legislation Committee. Ms. Brown has also previously served as a liaison to the NYWBA's Students and New Lawyers Committee,through which she has continued the NYWBA's tradition of mentoring attorneys who are new to the profession.
Ms. Brown continues to be active in her law school alma mater, speaking on panels and participating in networking events with the students. She has been a member of the Benjamin N. Cardozo School of Law Board of Family LawAdvisors for the past five years. Ms. Brown congratulates immediate past President Yacine Barry-Wun for her exceptional leadership and vision, and she looks forward to serving this year with the other extraordinary Officers, Directors, and Committee Chairs to further NYWBA's mission to improve the status of women in society; educate women lawyers and assisting them with professional development and advancement; and promote the fair and equal administration of justice.