President's Message
September 2017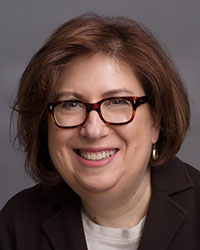 At the writing of this message in August, I'm still feeling the camaraderie and joy of our wonderful Annual Dinner on June 7, 2017. Many thanks to our hard working, dedicated Dinner, Journal and Auction Chairs and their committee members and to our Executive Director, Karen Lu, for the beautiful evening we all enjoyed. We gathered to reconnect, renew our spirits and strength, thank outgoing President Deborah G. Rosenthal for her exemplary leadership and honor two extraordinary jurists, Hon. Joan B. Lobis and Hon. Janet DiFiore. They are two wonderful, inspiring women and role models. I thank all of you who joined us and who offered your support to me and our board for the year ahead.
In June, we held our annual Committee Chairs Meeting, where we shared ideas for making our committees stronger and better. I thank the outgoing Committee Chairs for all their hard work and dedication; I welcome all incoming Chairs for volunteering to serve and wish you an exciting and productive year. I know our Chairs have already been busy over the summer planning their upcoming meetings, programs and CLEs. To really feel a part of our organization, meet principled colleagues, potential mentors, become better in your chosen area of law and work for improvements in statutes and practice, please join one or more of our amazing committees. These are trying times, but at the same time we have so many colleagues working hard to make great change, protect our rights and carry on our organization's mission for all. Please join us; this could be the most satisfying part of your career.
In July, we sponsored one of our most popular NYWBA events, the Martha E. Gifford Summer Program, "What It's REALLY Like to Practice Law as a Woman," named after former NYWBA (and WBASNY) President, leader and mentor, Meg Gifford who spoke at the program, along with an engaging panel of lawyers from all areas of the law, from corporate, private and government practice, to criminal and family law. Over 200 young women and men attended. My favorite part of the program followed the panel discussion when I met with our attendees and discussed with them their interests in the law. They were all bright, thoughtful, engaged, idealistic and hopeful to do wonderful things with their law degrees. With lawyers like that, the future of our profession and organization will be in good hands. Thank you to Committee Co-Chairs, Cassandra M. Porter and Victoria Turchetti, for organizing an engaging program. Many thanks to all our Board Members and Advisory Council Members, including Hon. Lisa A. Sokoloff, who brought so many of our attendees, and who stayed to meet with them during our reception.  And many thanks to our program sponsor, Vivian Rivera Drohan, of Drohan Lee LLP, for appreciating the importance of this program to the mission of our organization and to the next generation of lawyers.
I hope all are having a wonderful, restorative summer. In August, many of us who are in New York joined board member and former NYWBA President, Elizabeth A. Bryson, now a Director at the 2017 Leadership Summit of the National Conference of Women's Bar Associations (NCWBA):" Succeeding With Strength and Savvy."  Included in the Summit panelists were Meg Gifford and Morgan Fraser Mouchette (NYWBA Director and Committee Chair).  The Summit was a great success.
Be sure to mark your calendars for Monday, September 11, 2017, then RSVP and join us to kick off the start of our 2017-2018 social calendar at our Annual Membership Reception at Skadden Arps, which so graciously hosts this reception in their beautiful office space overlooking Times Square. This cocktail reception is free to all, but you must RSVP via our website www.nywba.org to attend. We are looking to increase our membership and hope to sign up new members that evening, so, I ask every member to bring along that colleague or two "who keeps meaning to join us". The drinks and food are on us. All are welcome: long time, new and potential members alike. Thank you to Phyllis Korff for once again being our host at Skadden Arps. We look forward to having some special guests at this event.
As you know, being a member in the NYWBA grants you the benefit of membership in our statewide organization, the Women's Bar Association of the State of New York (WBASNY). We are proud to be the largest chapter in that organization, which is now the second largest state wide bar association in New York. Being a member in our organization gives you an important voice in statewide legislation and other statewide matters. Our opinions and our voice are sought in many important matters. Help us maintain our influence at the WBASNY and statewide level by helping to increase our membership. Together we can do great things.
Please check our calendar and e-blasts regularly for upcoming events and important information. Join in and participate, and help make us the best we can be.
I look forward to seeing you all on Monday, September 11th.  Wishing all who celebrate them, peace for the upcoming Eid al Adha and for the Jewish New Year.
Myra